|
Running time : 25:01 min
Actors : Vince Ferelli, Rod Daily
Description
Rod Daily has convinced his friend Vince Ferelli to help him move some things into his new place. Vince is happy to help, even though his back has been killing him all day. When Rod's TV is just too much for Vince's poor back muscles, he asks Rod for a massage. Little does Vince know that Rod's been watching Vince's luscious ass do work the whole time. And it looks like Vince may have popped a little chubby in his pants earlier!

Once inside, Rod lets his hands soothe Vince's aching back. Soon he's rubbing his chest and inner thighs. When that chubby from earlier returns during the rub down, Rod turns the episode into a full-body affair. Watch Vince's thick cock slide nicely into Rod's supple mouth. And no massage is complete without a good fuck! Check out Rod as he bounces on top of Vince, then delivers some hard pounding of his own, Rod Daily style.

Enjoy!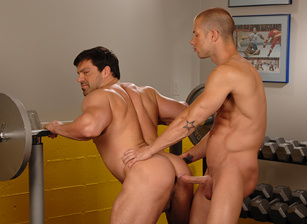 Recommended Movies
No records were found that match the search criteria.