|
Running time : 17:44 min
Actors : James Jamesson, Rod Daily
Description
When Rod Daily takes a quick bathroom break at the gym, he notices something most curious. There's something on the stall door behind the towel. That's strange. Rod's never seen a hole in the wall like that. And what's going on in that stall? Is that James Jamesson jerking his dick in there?? IT IS!

Well since Rod has worked up quite a boner during his gym routine, he's gonna see what happens when he sticks his big cock through the hole. And when it pops into James's bathroom stroke chamber, James has no problem rubbing his own hard man pole together with it. Rod decides to suck this mystery dick to see what it tastes like. This gets James all worked up and the two finally show themselves. James figures he might as well fuck Rod's ass while they're both in the bathroom, naked and erect. Hey, it's just common gym courtesy.

Enjoy!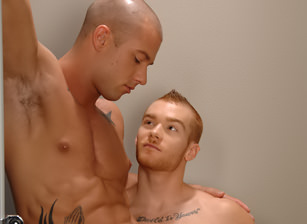 Recommended Movies
No records were found that match the search criteria.